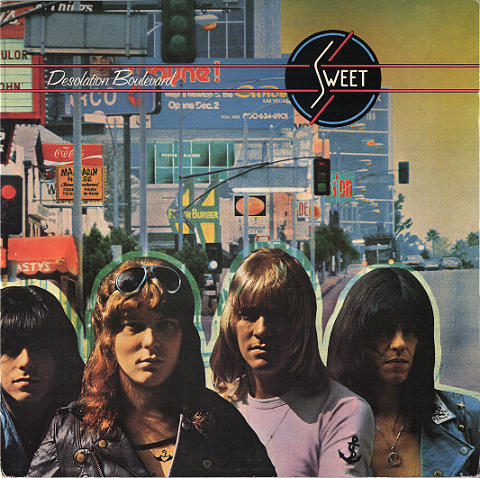 A főként angolföldön kialakult glamrock, vagy a csillogó ruhákról glitter-rocknak nevezett stílusirányzat egyik központi alakja az 1966-ban alkault, s a később csatlakozott Andy Scott gitáros révén a mai napig működő Sweet.
Kilencedik nagylemezük készítésekor a csapat a következő felállásban dolgozott: Brian Connolly – Lead vocals; Steve Priest – Bass, Lead vocals on "Miss Demeanor"; Andy Scott – Guitars, Lead vocals on "Lady Starlight"; Mick Tucker – The drums, Lead vocals on "Man With the Golden Arm".
A lemez két, egymástól eltérő változatban is megjelent, AlFipapa az amerikai változatot küldte el meghallgatásra.
Köszönjük, kedves AlFipapa.
A számok:
1. "The Ballroom Blitz" (Chapman, Chinn) – 4:06
2. "The Six Teens" (Chapman, Chinn) – 4:05
3. "No You Don't" (Chapman, Chinn) – 4:36
4. "A.C.D.C." (Chapman, Chinn) – 3:28
5. "I Wanna Be Committed" (Chapman, Chinn) – 3:13 (original length 4:04)
6. "Sweet F.A." (Scott, Tucker, Connolly, Priest) – 6:15
7. "Fox on the Run (7" version) (Scott, Tucker, Connolly, Priest) – 3:27
8. "Set Me Free" (Scott) – 3:59
9. "Into the Night" (Scott) – 4:25
10. "Solid Gold Brass" (Scott, Tucker, Connolly, Priest) – 5:35
Jelszó/Password: levente